CONBRIO (Collaborative Oxford Network for Bipolar Research to Improve Outcomes)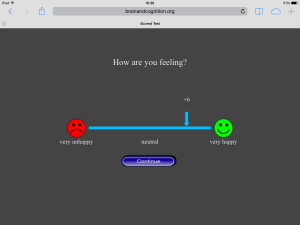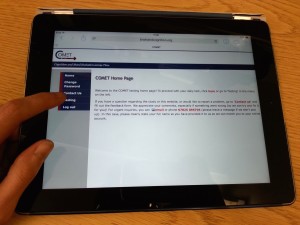 The Brain and Cognition Lab is working together with researchers from diverse scientific and medical backgrounds to investigate the role of mood instability in bipolar disorder. Bipolar disorder, also known as manic-depressive illness, is a severe and common mental illness which is poorly understood and for which medication is only partially effective.
Experimental Approach
Our contribution to this highly interdisciplinary research is to investigate the cognitive and neural correlates of mood instability. As part of this project we have launched the COMET study (cognition and mood evolution across time) in which we measure cognition and brain activity in healthy participants with various levels of mood instability, as assessed by standardised questionnaires. If you are interested in finding out more or participating, visit our website: http://conbrio.psych.ox.ac.uk/comet or email us on comet@psych.ox.ac.uk.
Translation 
Studies like COMET will establish effective cognitive and brain markers of mood instability that contribute to bipolar disorder. With these measures it becomes possible to develop an experimental model of bipolar disorder to aid the development and evaluation of new psychological and pharmacological treatments. Scientists in COMET are collaborating closely with clinical colleagues in developing bespoke experimental approaches to address clinically relevant symptoms and problems, with computer science colleagues to find new and engaging ways to measure fluctuations in mood and cognition, and with engineering and mathematicians to develop new ways to analyse fluctuations in mood, cognition, and brain activity.
Investigators & Collaborators
Principal Investigators: Kia Nobre, Matthew Rushworth (Experimental Psychology), Catherine Harmer (Psychiatry), Paul Harrison (Psychiatry), John Geddes (Psychiatry)
Postdoctoral Researchers: Adam Baker, Natalie Nelissen, Kate Saunders (Psychiatry), Amy Bilderbeck (Psychiatry)
Research Assistants: Lauren Atkinson, Priyanka Panchal
Collaborators: David Darby (University of Melbourne), Chris Hinds (Psychiatry), Mark Woolrich (OHBA)
Funding
The CONBRIO project is funded by a Strategic Award from the Wellcome Trust, and brings together psychiatrists, cognitive neuroscientists, molecular biologists, mathematicians, computer scientists, and engineers.
Related Web Links: